Data Services for Companies
With the services of Vu-Chain you have maximum efficiency by staying in touch at any time with your customers and your offices anywhere in the world. Network services, Cyber ​​security and Voice with offers tailored to your needs creating a unique and reliable infrastructure able to follow you in your business.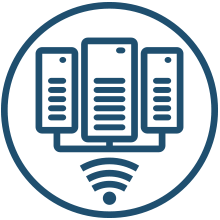 Vu-Chain offers the construction or integration of tailor-made business networks in order to support the flexibility of process operations, facilitating all communications with customers and external users as much as possible.
Services are based on an effective and extremely flexible latest generation technological infrastructure managed by highly qualified personnel ensuring high levels of service.
Protect your business with our security services by optimizing your business costs and resources. We will analyze all the critical issues by building an offer based on your needs through Antivirus and Antispyware tools, Firewalling, Intrusion Prevention System, Traffing Shaping, Content Filtering, Access Security, Application Control and Cryptography leaving you always the control of the situation through reporting tools.
Your company will be protected 24 hours a day allowing your staff to focus exclusively on the business.